Turnadot, Brexit Operetta (PR, 2019)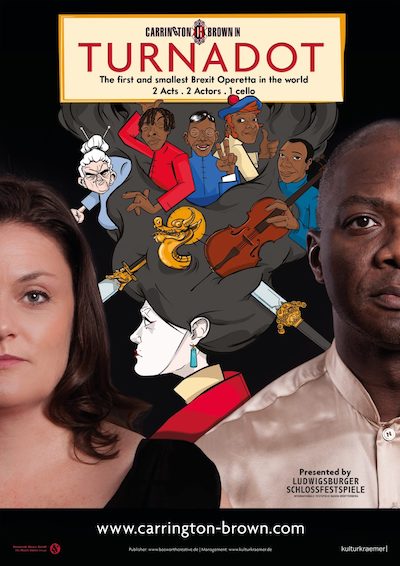 Description
A Brexit Operetta. Puccini re-imagined.
Sometimes nothing happens for decades and then a whole century passes within a week. All of a sudden, the events are overturning and you don't even know where is up or where is down! So it is with Carrie Puddleton and Lawrence Longstaff, the cellist and the chorus singer who are the only two members of the Royal Imperial Victorian Opera Company from good old England, who managed to reach mainland Europe. Brexit claims more victims! The two are therefore confronted with the mammoth task of performing Puccini's great opera "Turandot" alone. An impossible task, one might think. It is inevitable that things will go wrong…
The music and comedy duo Carrington-Brown, alias Rebecca Carrington and Colin Brown, together with the ingenious cello Joe, have spun a turbulent operetta that not only deals with the hair-raising motifs of the old Persian fairy tale, but also targets current European politics.
Recorded in May 2019 at Ludwigsburger Schlossfestspiele.
Official website: https://carrington-brown.com/…
Camera: Sebastian Leitner, Julia Rosskopf – Sound: Florian Hopf
Editing: Sebastian Leitner – Lights: Alexander Mahr
Format: XDCAM 25p – Screen ratio: 16:9 – Resolution: HD 1080