Cairo Jazzman (Feature, 2017)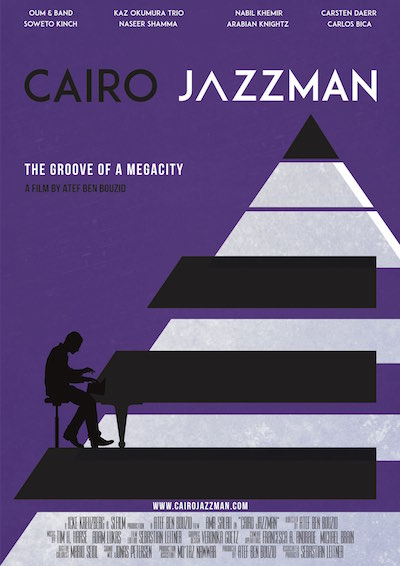 Description
The groove of a Megacity
Passionate Amr Salah is an Egyptian jazz composer and musician trying to organise the Cairo Jazz Festival; a risky undertaking, not only because of his limited experience, but mainly also due to the increasingly intolerant social climate. This political music documentary simultaneously paints an atmospheric portrait of the Egyptian capital.
World premiere at 46th International Film Festival Rotterdam 2017
Nominated for Best Editing at Madrid Int'l Film Festival 2017: Click!
Go to IMDB entry or Facebook Page
Official website: www.cairojazzman.com
Running Time: 82 – Language: English/German/Arabic/French
Format: RED, AVCHD, Surround – Screen ratio: 1:85:1 – Resolution: DCI 2K, 24p
Directed and produced by: Atef Ben Bouzid
Edited and co-produced by: Sebastian Leitner
International Sales: EuroArts Berlin GmbH
Main theme by: Adam Lukas
Digital colorist: Mario Seidl
Graphic design: Goillu
Featured musicians: Michelle Rounds, OUM, Nabil Khemir, Soweto Kinch, Naseer Shamma, Arabian Knightz, Carlos Bica & Carste Daerr, Kaz Okumura Trio